Peruvian Amazon Wildlife
As you might imagine, the Amazon Rainforest has one of the highest levels of biodiversity in the world. This should hardly come as a surprise given its whopping size of 5.5 million square kilometres (2.1 million square miles). In this blog post, we will focus on the Peruvian section of the Amazon Rainforest and some of the phenomenal wildlife you will find there. If the aim of your vacation is to see some animals in their natural habitat, the Amazon Rainforest won't let you down.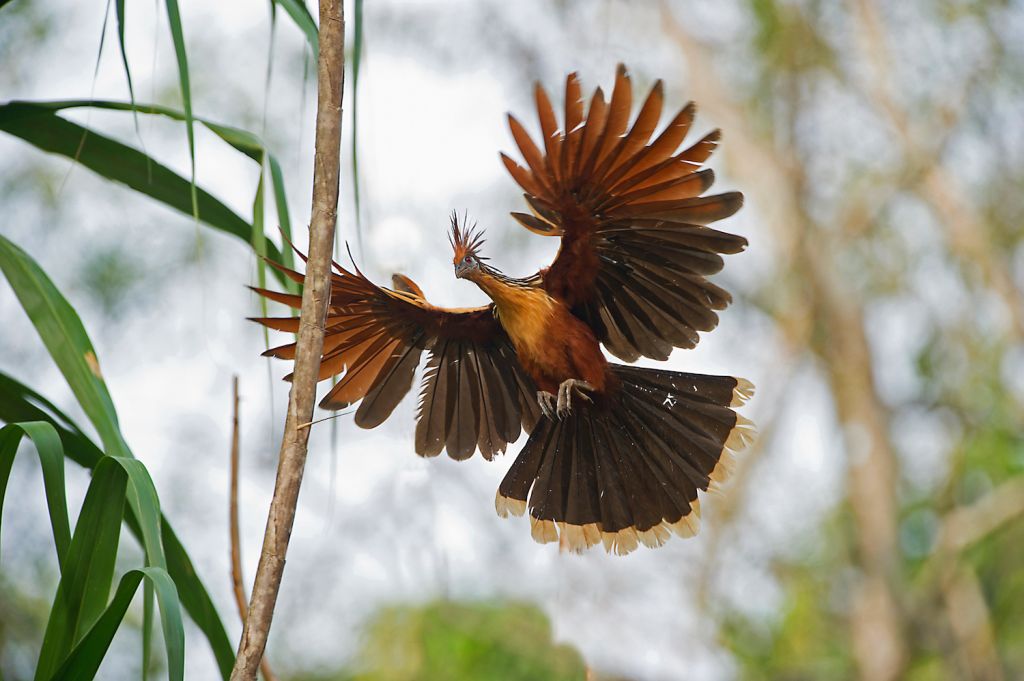 In the Sky
Let's start with the wildlife you might find should you cast your eyes to the sky. The Amazon Rainforest is home to hundreds of different species of birds in all shapes, sizes, and colors. You may find blue and yellow macaws, cocoi herons, short-tailed parrots, ring-tailed kingfishers, and great black-hawks – and that's just the beginning of the list. 
Two more unusual birds that you should look out for are the hoatzin and the jabiru. The hoatzin is a bizarre looking bird that looks like it could have directly descended from a dinosaur. It makes a deep groaning sound and has a distinct blue face, punctuated with red eyes. The jabiru is the tallest flying bird in Latin America and has white wings, a black head and red pouch on its neck.
Top Wildlife to See in the Sky:
• Kingfisher
• Blue and Yellow Macaw
• Blue Morpho Butterfly
• Hoatzin
• Great Egret
• Toucan
• Jabiru
• Fishing Bat

On Land
As you walk along trails cut through the thick swathes of vegetation in the rainforest, you will find a plethora of creatures hanging out in the trees and around your feet. Green iguanas and Amazon tree boas can often be spotted lounging on branches, along with squirrel monkeys, sloths, and pygmy marmosets. 
On the banks of the river, you might spot a capybara, caiman, or giant otter basking in the sunshine or cooling off in the water. Your experienced guide will undoubtedly have a good eye for picking out wildlife from a distance. Of course, exploring during the day and night will each present you with its own unique creatures. Do take part in our night safaris to get to know an entirely differently world of the Amazon.
Top Wildlife to See on Land: 
• Howler Monkey
• Spider Monkey
• Squirrel Monkey
• Capuchin Monkey
• Tamarin Monkey
• Marmoset Monkey
• Three Toed Sloth
• Anaconda
• Caiman 

In the Water
One of the main features of the Amazon Rainforest is the Amazon River and its estuaries that run through it. As well as being a means of access to the rainforest for visitors, the river is also an important ecosystem in and of itself. It is home to a myriad of creatures, some of which may only come to the surface for a couple of seconds, so keep your eyes peeled. 
Beneath the murky water of the rivers, swim schools of arapaimas, the largest freshwater fish in the world, growing up to 2.5m in length. The rivers are also home to piranhas, catfish and the adorable yellow-spotted river turtle. If you are seriously lucky you might catch a fleeting glimpse of a pink Amazon River dolphin or an Amazonian manatee. Have your cameras at the ready because you will want to capture that experience if you are fortunate enough to have it.
Top Wildlife to See in the Water
• Pink River Dolphins
• Grey River Dolphins
• Piranha
• Amazonian Manatee
• River Otter
• Paiche 
Here at Delfin Amazon Cruises we understand that spotting wildlife is a quintessential part of your Amazon Rainforest experience. Our cruise itineraries are crafted with this in mind and we allow all our visitors to spend time in the world-renowned Pacaya Samiria National Reserve, one of the best spots on the planet to find wildlife. Throughout the two million acres encompassed by this park animals roam and soar without a care in the world, while the water teems with life
There is no better place on earth that the Amazon Rainforest to be blown away by the power of Mother Nature, or Pacha Mama as she is known here. It is the perfect place to forget about cars, cities and civilization and to wholly connect with nature, even if it's just for a week or two.
For more information about Delfin Amazon Cruises, please contact us.