Experience the Delfin I Amazon Cruise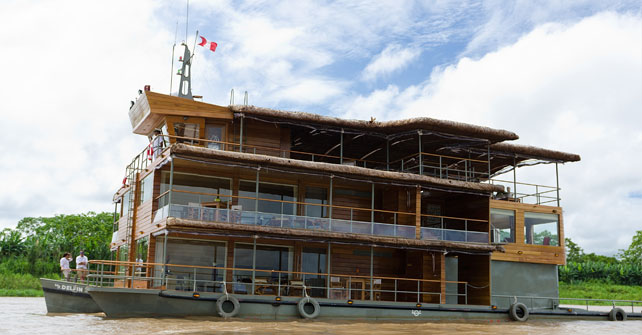 Delfin Amazon Cruises is the pioneer line of luxury cruises in the Peruvian Amazon. Born in early 2006 by its founder and CEO Aldo Macchiavello, the company is the realization of a dream shared with his wife, Lissy Urteaga: to create a boutique tourism business in the incredible country of Peru.
Currently, the luxurious cruise company in the Amazon has three ships, 200 collaborators, two own embarkation ports, a restaurant and an operations center in Iquitos. Their guides, skippers, chefs, and crew members —many of them native Amazonians— are experienced and trained professionals as well as charming travel companions. With a crew of 11 on the vessel Delfin I, they are sure to provide their clients with personal and undivided attention.
The very definition of boutique cruising, Delfin I combines traditional design and craftsmanship, with all modern comforts. The luxurious vessel features 4 oversized suites, all with floor-to-ceiling paneled windows and their own spacious private terrace, providing incredible views of the ever-changing scenery. On the top deck, guests will find a lounge area, bar and entertainment center which are perfect places to relax in while the jungle unfolds before their eyes. As for service, intimacy and personal attention is the key success.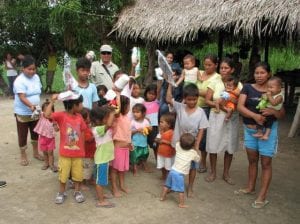 This boutique Amazon riverboat offers incredible levels of comfort, customer service and attention to detail. From the individually-crafted gourmet meals made from exotic local ingredients to the eagle-eyes of the expert onboard naturalist guide, guests can expect the highest level of service in a welcoming, intimate and relaxing atmosphere.
For the adventurous tourists and nature lovers, Delfin I provides many water activities, like kayaking in the majestic Amazon river, swimming with dolphins, and, for the first time in the Amazon, passengers can try their hand at paddle-boarding. A world of flora and fauna awaits you… if you can force yourself to leave the supremely comfortable surroundings of the Delfin I!
Come and join us in this incredible experience cruising the Amazon in the luxurious and beautiful Delfin l vessel. For more information on the departure, Check Here Availability or Meet Delfin I details.