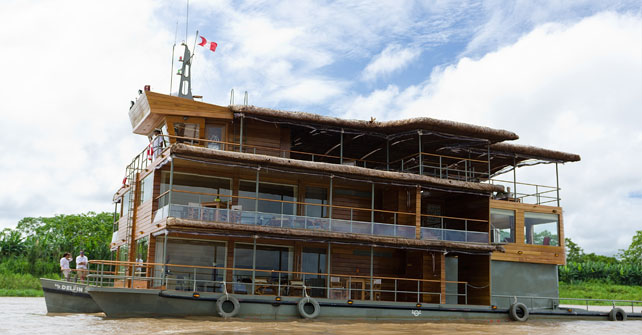 Our new and refurbished Delfin I takes you one step beyond luxury, where comfort and grace combine effortlessly with the wilderness of the Amazon to create the most unique and personalize vessel to ever sail in the Peruvian Amazon region. In a setting of understated elegance and world-class hospitality, this classic river vessel features 4 oversized suites, all with private panoramic terraces; 2 offer a private whirlpool for the ultimate treat. Travelers will be spoiled by the floor-to-ceiling windows that allow nature to be part of the natural suite décor. Cabin service 3 times a day will ensure you the most optimal personalized service possible.
On the top deck, guests will find a lounge area, bar and entertainment center which are perfect places to relax in while the jungle unfolds before their eyes.
As for service, intimacy and personal attention is the key success.
This vessel features artwork by the women of the Puerto Miguel community, and with your help buying their beautiful work you will help provide the children of this community with enough school supplies to be used in the entire school year.
Dining Room
The Dining Room is located on the 2nd deck. Dining on the Delfin offers an unrivaled level of sophistication and the luxury of tasting simple and natural products. Peruvian cuisine is considered one of the world's finest and reflects the country's cultural diversity, especially with the Amazon's wild choices of fresh ingredients and the gentle blend of immigrant traditions. All these variables come together to create one of the world's most unique and delicious cuisines.
Observation Deck
On the top deck of our vessel, a casually elegant setting creates a welcoming and peaceful environment for those who want to get away from it all. Enjoy luxury and comfort seated on large, soft sofas while watching the breathtaking landscapes and sights of the Amazon pass by you. At night, soak in the billions of brilliant stars within our galaxy.
This open air lounge is also equipped with an entertainment center, a range of DVDs, reading materials about the Amazon Rainforest, an array of wildlife presentations, an XBox, and an open bar offering a variety of international and local drinks. Coffee and tea are always available.
Boutique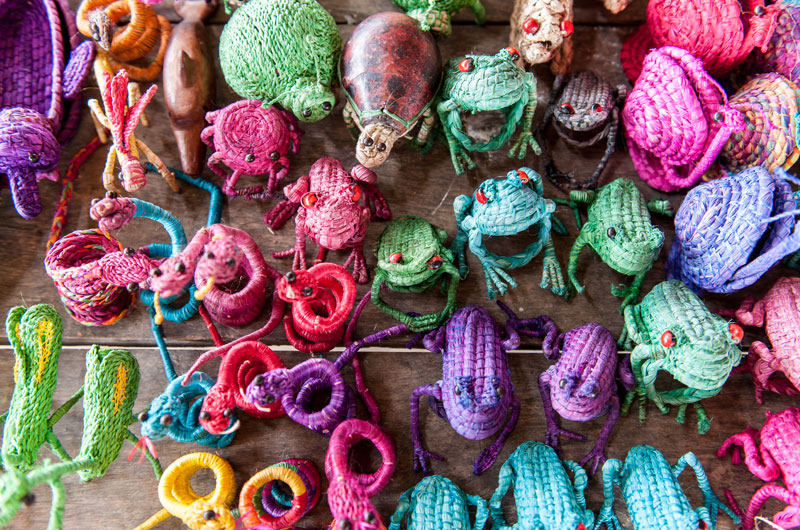 On board, you will surely delight in our partnership with the local communities within the Pacaya Samiria National Reserve reflected in the wonderful and special handicrafts featured in your suite and throughout the vessel. These handmade pieces are one-of-a-kind gift items and absolutely authentic of the Amazon area and cultures.
Delfin I Vessesl Specifications
Latest updates: Refurbished in 2010
Type of vessel: River vessel
Port of Embarkation: City of Nauta
Vessel´s Registry: Peru
Length: 67 feet
Beam: 33 feet
Draft: 5´8"
Capacity: 12 passengers
Generator: Caterpillar, 45KW (encapsulated)
Engine: Cummins 285HP diesel turbo boosted
Cruising Speed: Average 8 knots
Water: Water treatment plant with 5.0 cubic meter capacity
Sewage Waters: 2.5 cubic meter septic tank
Radio Communication: VHF, UHF and satellite phone on board
Launch Boats: 2 aluminum 10 passenger skiffs equipped with four stroke low emission Mercury 60HP engines + radio communications with main vessel, life jackets and flares
Life Jackets: one per passenger, available in each Suite