Excursions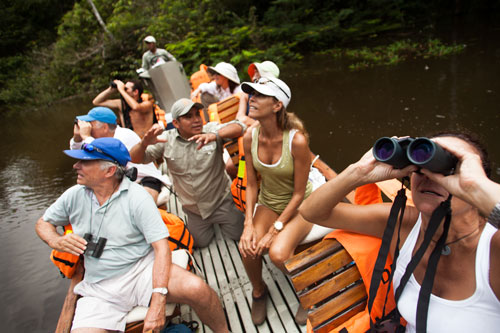 Delfin Amazon Cruises matches your destination, itinerary, and travel dreams in the Amazon. Style is always allied with substance and we offer an on-board experience that is second to none while taking you to places few have gone before.
Your Amazon journey takes off on arrival in Iquitos, were we will pick you up and take you to our vessel. In the following days, you will experience an ideal combination of natural wonders, dramatic scenery, indigenous cultural history, and a relaxed self-contained way to explore the rainforest while sightseeing nature at its best. Here in the Pacaya Samiria National Reserve, you are about to explore one of the world's most intriguing environments. Flora and fauna are abundant and time seems to stands still.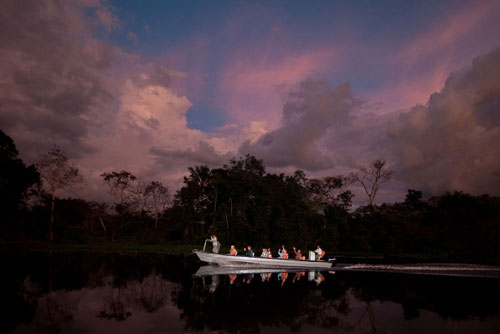 All excursions are included with your cruise rate. For all short transport (such as from the vessel to land for hiking) and wildlife seeking excursions, you will travel via skiff boats. Our skiffs are quick to launch, stable to ride, and ready to navigate into the most hidden corners of the Amazon. Each skiff seats 8 passengers and come with their own expert naturalist guide, captain, and features all safety regulations.
Excursions and itineraries are dependent on natural and weather conditions and are thus subject to change. Please let us know in advance with any questions or special requests.
Trail Walks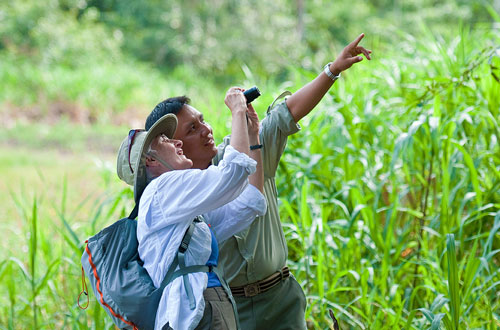 Every day, we recommend getting up early to appreciate the vibrant zones of the Pacaya Samiria National Reserve. Early rising is always rewarding since wildlife is most abundant and active with the rising of the sun.
Trail walks at destinations such as Fundo Casual jungle trail and others will take you deep into the rainforest on terra firme (non-flooded forest) where your guide will point out dynamic creatures and vegetation of the Amazon. A local assistant may also accompany you; these people are natives of the jungle and are able to bring you closer to different animals such as frogs, snakes, and insects.
The activity level of these walks are light; we provide rubber boots and rain ponchos in case of inclement weather.
Be sure to keep an attentive eye open for spotting surprises!
Kayaking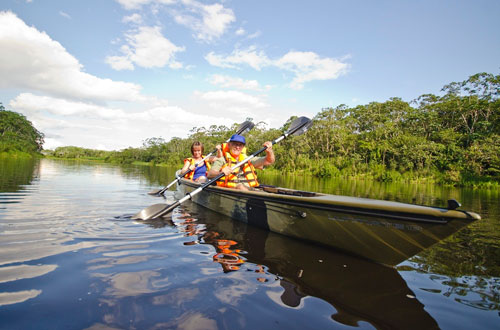 Delfin Amazon Cruises is proud to offer Native brand 16" River Kayaks to both the Delfin I & Delfin II. These kayaks make for excellent opportunities to paddle smoothly and silently into small creeks, tributaries, and lagoons. They have been especially designed with durability and stability for fishing trips, meaning that in the calm waters of the Pacaya Samiria, you are able to gently row downstream.
Delfin I has 4 kayaks, while Delfin II has 5 kayaks. Each kayak seats 2 persons.
Paddleboarding

New and Exclusive Excursion Only on Delfin I
We're always brainstorming ways to make our journeys through the Peruvian Amazon more interactive and exciting for our guests. The latest addition to our range of excursions is paddleboarding, available only when sailing on Delfin I. Because of the calm, often ripple-less waters of the Pacaya Samiria National Reserve, paddleboarding is a great activity for all ages. The coolness of the river water over your feet while you brush past the banks, eyeing wildlife, is an experience you won't want to miss.
Fishing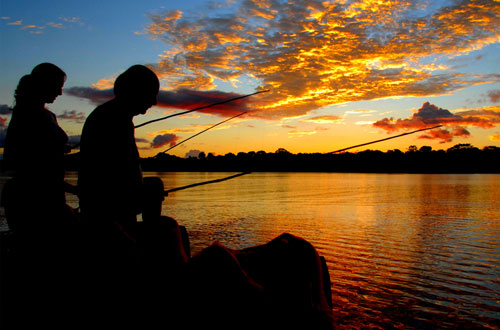 In the depths of the Amazon jungle, deep inside lagoons and creeks, pursue the fierce fishes of the Peruvian Amazon while enjoying the comfort, security, and style of a Delfin Amazon Cruises experience. Encounter the mighty peacock bass, gigantic awe-inspiring Amazon catfish, and other exotic sporting species!
As part of our commitment to the environment, we exercise a strict policy of catch and release.
Canopy Walking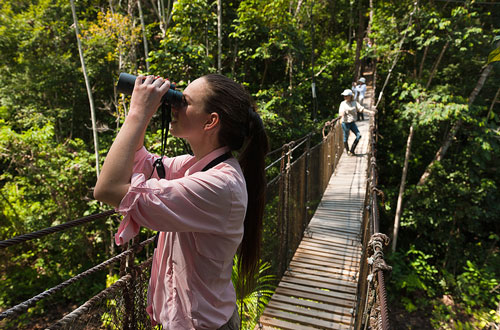 There is another world in the treetops of the Amazon Rainforest. Dozens of meters above ground, you will encounter not only dizzying new heights, but also birds and other animals that cannot be seen from the jungle floors. Each layer of the canopy will unveil something new not seen in other layers.
Your canopy journey will be unlike any other. At a height of more than 85 feet (25 meters) and a length of more than 1,580 feet (500 meters), our canopy walkway provides you with unparalleled views of the Amazon Rainforest, its wildlife and vegetation.
The canopy walkway is accessible to all and requires no special skills or equipment. The suspended bridges are spread between 14 of the area's largest trees and is one of the longest canopy walkways in the world. Canoeing back through Tawampa Lake, you'll possibly hear and observe the giant Arapaima, the world's largest freshwater fish.
Animal Rescue Center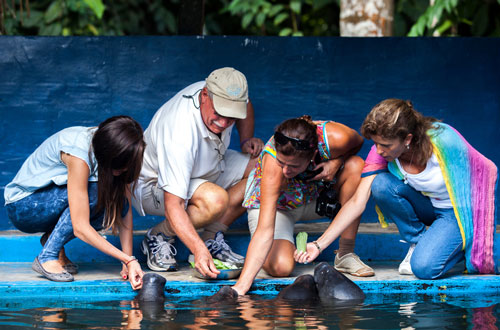 The Rescue & Rehabilitation Center of River Mammals (ACOBIA)
As part of your Amazonian cruising journey, you will visit the Rescue & Rehabilitation Center of River Mammals (ACOBIA) close to Iquitos where you will have the chance to meet baby manatees and learn about these wonderful and docile creatures and why they are on the endangered species list. On your visit, you will also have the chance to pet and feed these kind manatees.
In addition, there are other animals cared for by the center that have been rescued from capture for the intention of being turned into pets and other threatening conditions. These include monkey species, river otters, and more.
A band of dedicated volunteers work hard all year round to ensure their efforts are sustained. We welcome you to donate to this ambitious organization and education center as you wish.
Gym & Spa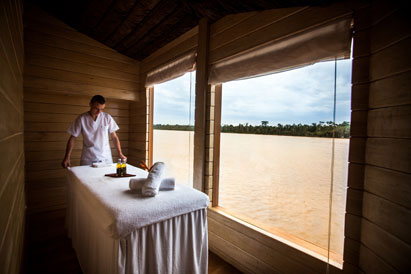 To compliment your daily excursions in the rainforest, we welcome you to enrich your body while on board Delfin II by making use of our newly restored exercise space. Whether you enjoy aerobic exercises or cardio, our gym resources are available at your disposal. Better yet, the floor to ceiling window allows so you never miss a second of the lush jungle scenery outside.
Wellness and healing continues with our spa services on Delfin II. Surrounded by the lush natural surroundings of the Amazon, we encourage you to dive into the philosophies of rainforest remedial philosophies and therapies. Our wellness specialist is happy to accommodate your schedule at any time, and depending on your preference, you can rejuvenate in our spa room or find your zen in the comfort and privacy of your suite.
We offer flexible appointment times to best fit around your jungle excursions and personal schedule.
Swimming Near Pink River Dolphins
Most of us are familiar with the fun and playful blue bottlenose dolphin named Flipper, made famous by Hollywood productions, but less people know about Flipper's rosy-colored cousin, the pink river dolphin. This rare species is found in the freshwater rivers of the Amazon near Iquitos, Peru. Upholding the reputation of its salt water dwelling kin, the Amazon river dolphin is social, friendly and extremely intelligent, making it one of the highlights of a visit to the Amazon Basin. They also love the company of humans. When you visit the Amazon, don't be afraid to go for a swim with these remarkable creatures. Make sure you bring your bathing suit and a waterproof camera. A snapshot of the pink river dolphin will definitely be one for the Amazon adventure scrapbook.
Birdwatching
Bird watching enthusiasts will greatly enjoy the sheer number of diverse bird species. The Amazon is second to none when it comes to biodiversity, boasting over 1500 species of birds – that is 20% of the total number of species on the planet! The Pacaya Samiria is especially diverse having little human interference to disrupt the natural habitat.
The expeditions set out early in the morning on the skiffs in order to see the most impressive display of birds. Professional guides, accompany you and answer any questions you may have. The guides have grown up in the region and have deep knowledge of the wildlife. Whether you bring your camera or just your memory, the experience will surely not disappoint.
Night Expeditions
Exploring the jungle by day is only half the fun as the adventures continue past sundown. The groups embark on skiffs once again as they make their way back from the daytime expedition. The first thing you will notice are the sounds. The sound of the jungle at night is intense, and unlike anything you have ever experienced. Look up to the sky and you´ll find another marvel, as the star patterns are so visible and dense, it´s like peering through a window into outer space. The groups are led by our expert guides who will direct your attention to creatures which often go unseen. This is your chance to spot the black caimans, bats, frogs, and other nocturnal creatures. The night safaris are a very unique experience and one you won't forget.