"When authentic memories and meaningful experiences mean more to you than the expected, venture to discover the Amazon Rainforest in the most unique and personal style. Delfin Amazon Cruises is the pioneer upscale river cruise operator in the Upper Peruvian Amazon and we will take you on a magical journey of discovery."
We have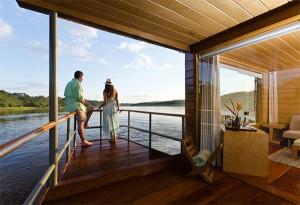 taken personalized boutique travel and services one step beyond the ordinary. Launched in early 2006 by its founder and CEO Aldo Macchiavello, a former senior banker with 25 years experience in the financial sector, the company is the culmination of a long held dream shared by his wife Lissy Urteaga: to run a boutique travel business in their amazing country, Peru
FOUNDER & CEO: ALDO MACCHIAVELLO
A former senior banker with extensive international travel experience and a taste for casual yet refined travel, Aldo Macchiavello, together with his wife Lissy Urteaga, are fully dedicated to personally managing the business. A graduate of Purdue University's Krannert Graduate School of Management and with over 25 years in the banking sector, Aldo has in-depth knowledge of Peru and a passion for tourism. He brings to the business a unique combination of professionalism, vision, operational capabilities, and the touch of a first class host.
CO-FOUNDER & SERVICES MANAGER: LISSY URTEAGA
Lissy is blessed with unlimited creativity, imagination for details, and a natural ability to make guests feel at home. With a background in art, interior design, and extensive international travel experience, Lissy, together with her husband and business partner Aldo, adds just the right combination of exclusivity and charm to cruising in the Amazon on board the Delfin I & Delfin II.