Benefits of an Amazon Cruise vs. Jungle Lodge
Are you planning to visit the Peruvian Amazon Rainforest in the near future, also known as one of the most biodiverse places on the planet? Then you are probably researching where to stay and what activities you want to do, whether you want to venture deep into the jungle, swim with pink river dolphins, or spot the black caimans on a night trek. Lodging – may that be staying at a jungle lodge and exploring the Amazon River with an all-inclusive cruise – is another detail you need to consider. Usually this is where someone tells you the pros and cons for each, but honestly there are only pros to choosing an Amazon riverboat cruise for your jungle experience. Here are the main benefits for deciding to cruise the waters of the Amazon River versus staying in a jungle lodge.
Luxury amenities
In a region of Peru where luxury can mean anything from having hot water to electricity, an Amazon cruise makes no exceptions when it comes to providing a top quality cruise experience. You can expect hot water, private bathrooms, electrical outlets, air conditioning, cozy and modern rooms, friendly staff and exquisite dining arrangements. On top of the amenities, a cruise offers a plethora of excursions and activities for passengers to enjoy.
While some lodges boast luxury-style amenities, there is a wide discrepancy among the levels of quality. On an Amazon cruise, you know exactly what you are getting.
More enjoyable transportation along the river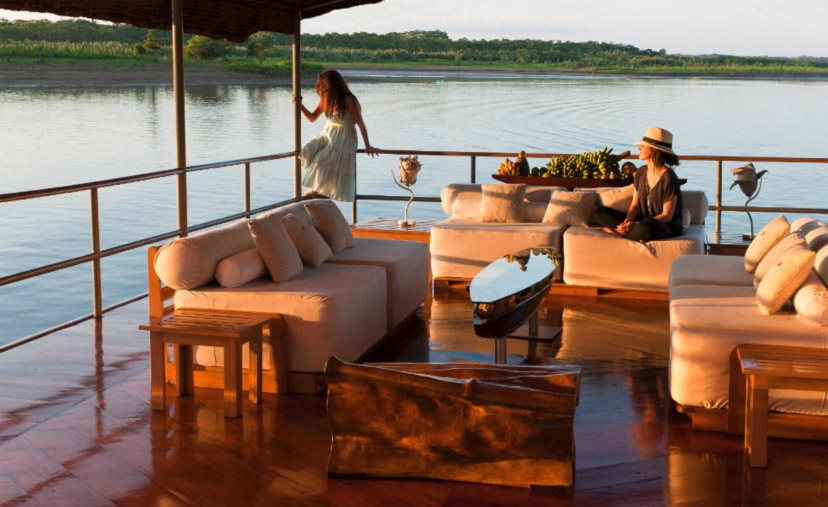 Photo provided by Delfin Amazon Cruise
If you choose to spend your Amazon experience in a jungle lodge, you will most likely have to take a small motor boat, called a peke peke, to get there. These boats are called peke peke because of the "peke peke peke peke" sound their motor makes as they slowly navigate the river. Depending on how deep into the jungle your lodge is and whether or not it is up or down river, the journey to and from your jungle lodge can last anywhere from 30 minutes to 8 hours. On top of the long ride, a peke peke is not known for comfortable seating arrangements. The seats are typically hard wooden planks with little room to move about.
From the moment you reach the dock in Iquitos, an Amazon riverboat provides the best and most comfortable accommodations the region has to offer. When venturing into the jungle by boat, you want to be able to kick back and relax so you can soak it all in. An Amazon riverboat gives you just that.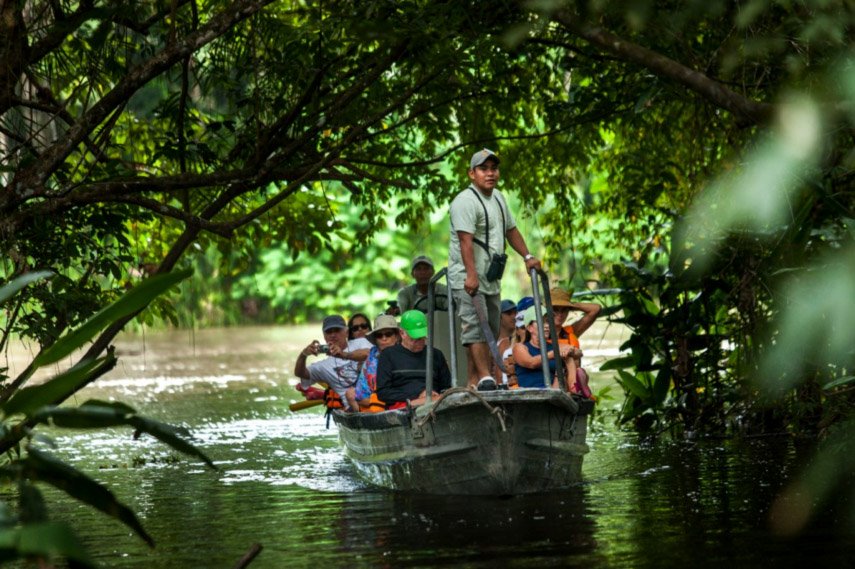 Photo provided by Delfin Amazon Cruises
With an Amazon riverboat cruise, you will be able to see more of the jungle than if you stayed at a jungle lodge. The ships are constructed to cruise the waters of the Amazon River and its tributaries with ease and provide the most comfortable experience for guests onboard. This is not an option for travelers who stay at jungle lodges, where the main mode of navigating the river is with a peke peke.
Amazon cruises also offer a wide array of activities for both dry and wet seasons. This means you do not have to be limited to a particular time of year to explore all the richness of the rainforest. Paddle boarding, kayaking, fishing, trail walks and jungle excursions are all possible when you take an Amazon riverboat cruise.
Top quality food made with local ingredients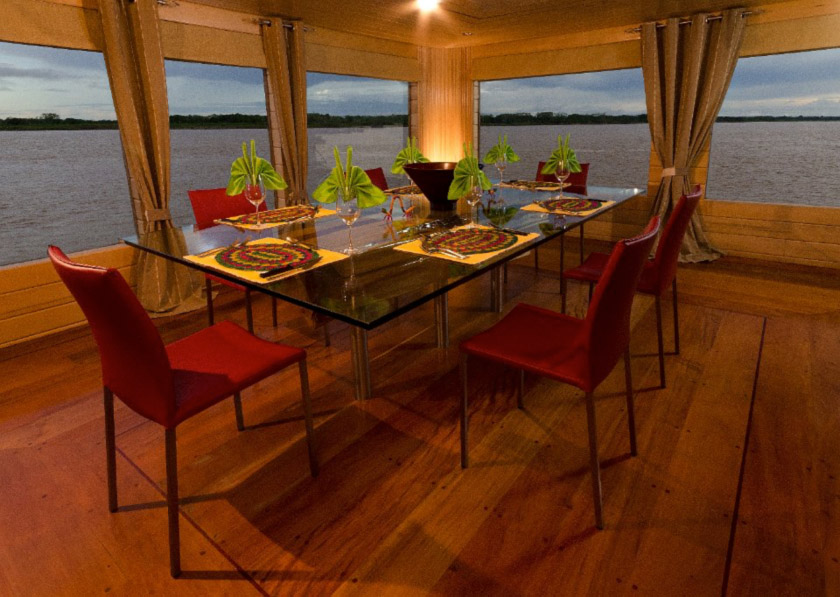 Photo provided by Delfin Amazon Cruises
One of the best things about an Amazon riverboat cruise is the freshly prepared food served onboard. You can expect candle-light dinners, fine china place settings, an extensive menu serving Peru's most flavorful dishes, and a spectacular view of the Amazon River to make the experience that much more enjoyable.
This level of service is unrivaled in the Amazon region. In a place where fine dining restaurants are almost non-existent, the options onboard an Amazon Riverboat are some of the most exquisite. The chef will even graciously accommodate special requests, such as a children's menu, food allergies, and vegetarians.
If you were worried you were going to have to spend your jungle experience "roughin'" in, then rest assured that an Amazon cruise will provide you with the highest level of luxury and comfort the Peruvian Amazon has to off. Exploring this beautiful region on a luxurious riverboat cruise is an experience you won't soon forget. Book your Amazon riverboat cruise today and experience the Peruvian Amazon in style.
Kathleen McAfee is wanderlust addict with a thirst for adventure. She is currently based in Lima, Peru, and a member of the marketing team at Peru for Less where you can also book a Delfin I cruise or Delfin II cruise!