HOW MUCH LUGGAGE CAN I BRING? ARE THERE PORTERS AVAILABLE AT THE AIRPORT AND THE PIER?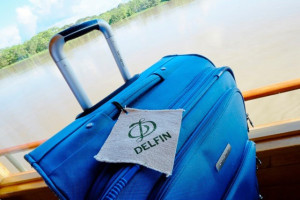 We allow you to bring as much luggage as you like, but suggest the use of soft suitcases/bags for easy storage. We have special storage for heavy luggage at our embarkation port in Nauta city, so we can keep them well stored and locked until you disembark. How much you bring, however, may be determined by the airlines, which have limits on both checked and carry-on baggage. LAN Airlines for example, allows 20 kilos (44 pounds) of checked luggage and 8 kilos (18 pounds) of carry-on baggage. Porters are available at both the airport and our port in Nauta. They will make sure that your bags arrive well at our private embarkation port storage facility and your Suite. At the embarkation port, you may also tell the guides if there is any luggage you would like to be stored at our facilities so they can give you a special identification tag.
WHAT SHOULD I PACK?
Life is casual aboard both Delfins. Bring comfortable walking shoes, light-weight long pants, and long-sleeved tops, a wide-brimmed hat, sunscreen, extra socks, mosquito repellent with DEET, bathing suits and of course, your camera, with charger and extra batteries on excursions. Binoculars are very important to enjoy the wildlife (provided on Delfin I, not provided on Delfin II). Don't forget to include some items that you can give away to the locals (t-shirts, pens, and paper are especially prized, and perhaps some chocolates or candies for little kids). During meals in the dining room, we ask our guests to wear casual clothing and shoes. We provide rubber boots for wetland excursions and wet landings, and recommend taking comfortable walking shoes. We also provide waterproof ponchos with hoods to protect against rain. Our Suites all have 220-110 volt outlets.