New Health and Safety Protocols
The world has changed, so we've adapted. We've reinvented ourselves so you can fulfill your dream of visiting the Upper Peruvian Amazon. We've adjusted, intensified and redefined our health and safety protocols, so you can rest assured that when traveling with Delfin Amazon Cruises, you'll be provided with the utmost care and security in a trustworthy environment.
New Protocols for Travel Safety



Your journey with us starts at the airport, where our guide will pick up and sanitize your luggage. He'll also clean your luggage before boarding and upon disembarkation.
After a temperature and health check, you'll be escorted to our private transfer vehicle. Our transport vehicles are diligently cleaned and sanitized before boarding using the most effective disinfectants, sanitizers and deodorizers.
As always, our paramedic will accompany us every step of the way from the airport, to the transfer van, onboard, during excursions and when it's time to go home. They are prepared to attend to any medical assistance needed 24/7.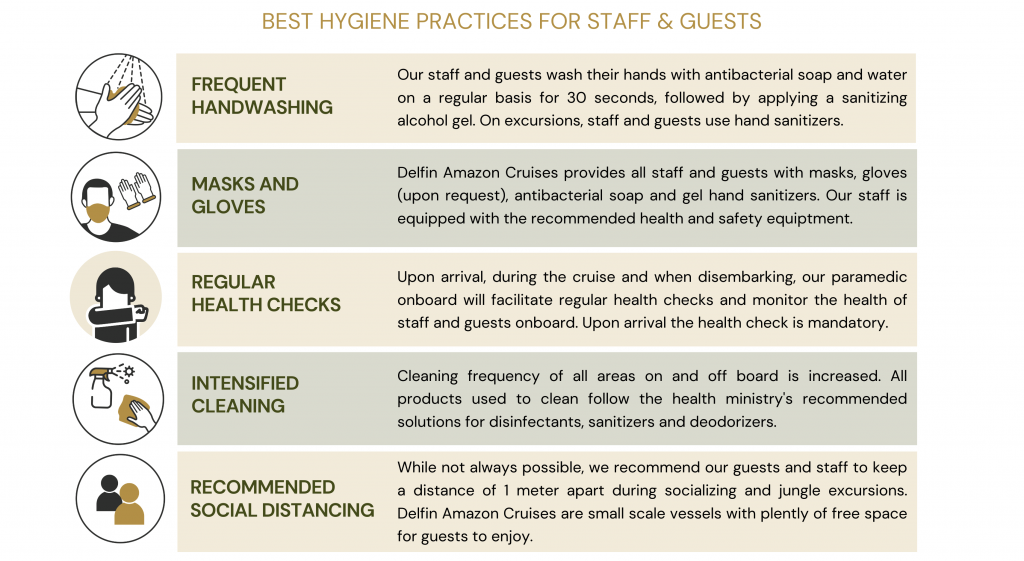 On and off board our vessels, our antiviral hygiene commitment includes: increased frequency of cleaning all common areas and rooms onboard, regular health checks, frequent hand washing, staff training, health and safety certifications and social distancing.
Providing impeccable service to our guests is the core of our adventure, so our staff has adapted important procedures that comply with the new regulations established by MINSA and the CDC without compromising our service or any part of the Delfin Amazon Cruises experience.  
We'll take advantage of technology to help us with the check in process and any personalized services or requests. Paperless is our commitment.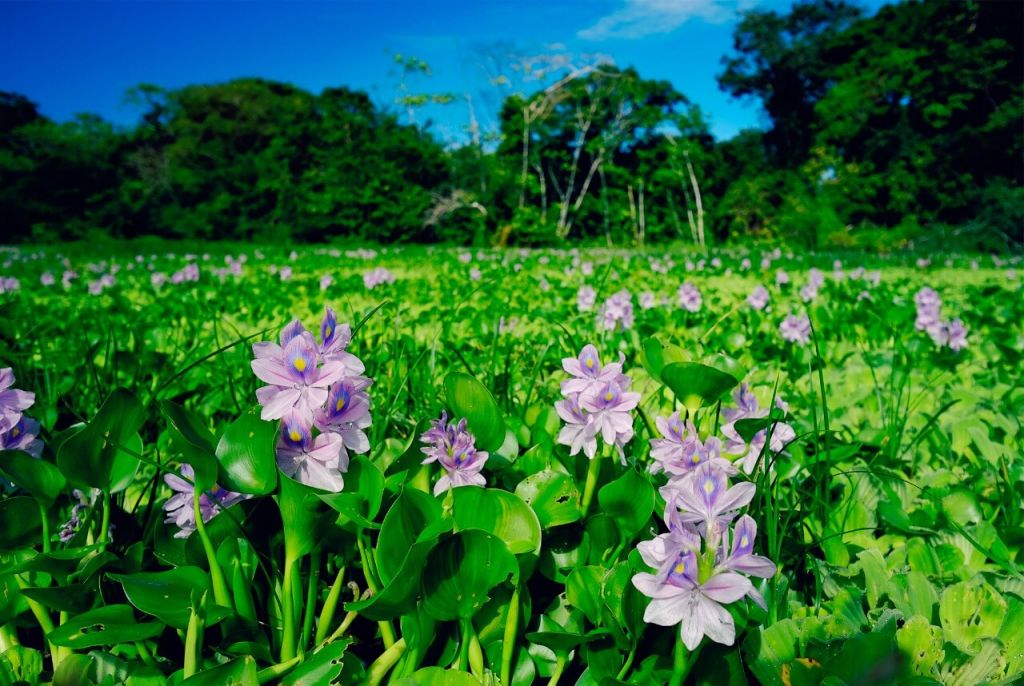 We've always been a small scale operation. Each room onboard has its own air system, allowing for optimal airflow. There is plenty of space onboard and during our jungle excursions, if you prefer to keep your distance.
Let's take a breath of fresh air and connect to the serenity and pureness of the Amazon. We are looking forward to welcoming you back to discover the phenomenal beauty and diverse culture of the Upper Peruvian Amazon Rainforest.We are ready to welcome you onboard!
Watch Our Full Health & Safety Video
For more information about our New Health and Safety Protocols, or booking a cruise aboard Delfin Amazon Cruises, please contact us or call 1-833-201-8684.