The Suites Aboard the Delfin II Amazon Cruise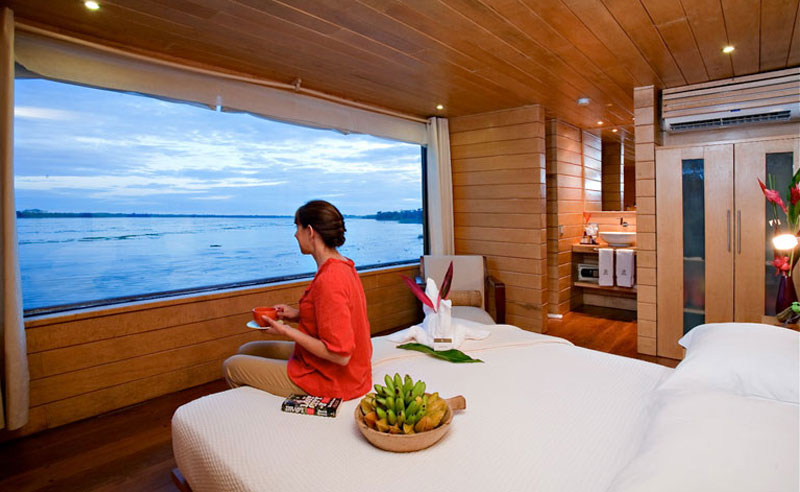 In 2006, Delfin Amazon Cruises was founded by a former international banker, Aldo Macchiavello. Ever since, they have provided a luxurious and exclusive service for travelers that want to discover the majestic Amazon region. Aldo and his wife, Lissy Urteaga, are fully dedicated to personally running the business armed with extensive international travel experience and a taste for casual yet refined travel.
This first-class Amazonian cruise company sails out of Iquitos, Peru, and gives you the chance to be one of a select group to visit the remote Pacaya Samiria National Reserve: the largest protected wetland reserve in the world and one of the areas of highest biodiversity.
Their three boutique cruise vessels (Delfin I, Delfin II and Delfin III) sail across the Amazon River providing an insight into the ecological wonder of the Pacaya Samiria National Reserve, one of Perú's largest protected areas of flooded rain forest.
Delfin II is one of their most beautiful and splendid vessels, which combines traditional design and craftsmanship, with all modern comforts. There are fourteen cabins on board, all carefully designed to be of the utmost pleasure, including 4 master suites with 180° panoramic windows and 10 equally elegant suites, four of which can be interconnected to accommodate families.
The 10 suites have extra-large windows that offer guests the most breathtaking views. All suites are designed with casually elegant interiors that create a welcoming and relaxing environment for those who want to get away from it all, yet enjoy indulgent comfort.
Travelers will be spoiled by the floor-to-ceiling windows that allow nature to be part of the natural suite decoration, and the daily cabin service will ensure the most optimal personalized service possible. Relax and enjoy the beautiful view of the Amazon River on the luxurious Suite of the Delfin II vessel. For more information on the departure, click here.