Amazon Cruise Review from: Ximena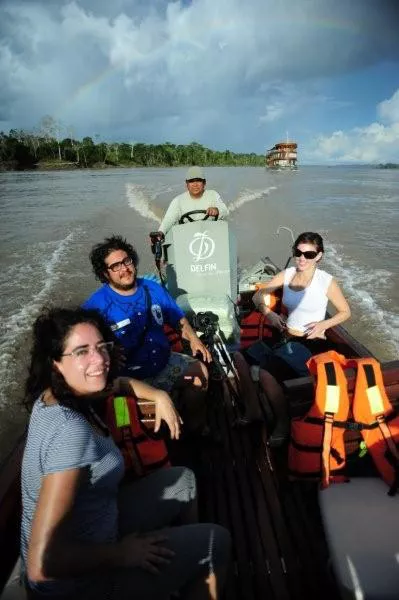 It has been one of the most extraordinary travel experiences I've ever had. The boat – and even the special dock you part from – is exquisite, like a 5-star Fitzcarraldo.
Everything is made from Amazon woods and every detail is beautifully taken care of. It is very different from one of those multitude cruises.
On board the Delfin you have around 28 people and plenty of private space to read and watch the Amazon River and every detail of the tropical rainforest. The crew on board is very well prepared, and charming.
The rooms are lovely. The food is first class level exotic with fruits and products of the Amazon you never knew existed – even if you're the kind of person that's more into eating than traveling, it is well worth the stay: splendid buffet breakfasts with wonderful fruits, and amazing meals with fresh amazon fish ceviches and a very creative Amazonian interpretation of modern Peruvian cuisine.

Every day you have 2 trips on smaller boats that let you come closer to the shore and take a close look at the animals and the beautiful vegetation, amazing trees and flowers are home to an overwhelming amount of monkeys, eagles, cranes, hawks, parrots, and of course the river is filled with life: alligators, piranhas, and the wonderful pink dolphins.
Taking a dip in the Pacaya Samiria reserve with these amazing animals y certainly an experience one does not forget.
Like a piece of Eden, beautiful and pure, the Amazon has many untouched places that make you feel like at the beginning of the world, crowded with rainbows.
Ximena