Cooking in the Amazon: A Simple Patarashca Recipe
Peruvian cuisine is diverse, just like its country. Each region of Peru has its own take on national dishes using local ingredients that are grown in the area. The Amazon Rainforest, no doubt, has a rich selection of fruits, vegetables and fish, used as staples in its dishes. Our guests really enjoy the classic Amazonian Patarashca while onboard Delfin Amazon Cruises. It's made up of fresh fish and vegetables all wrapped up in plantain leaves and grilled to perfection. This is an easy recipe to try at home that's exceptionally tasty, so why not host an Amazon Dinner at home this week? We'll leave you the recipe below, with a few modified ingredients for you to try at home. Enjoy!

Ingredients:
4 wrasse fillets (can be replaced by any white fish like cod, bass, or haddock)
3 thinly sliced garlic cloves
3 tablespoon extra virgin olive oil
1 cup chopped onions
1 cup of diced sweet chili peppers, veins and seeds removed
1 cup of Amazon tomatoes (substitute with cherry tomatoes cut in halves)
1 tablespoon minced ginger
2 tablespoons mined sacha culantro (or regular culantro will do!)
2 tablespoons soy sauce
4 plantain leaves (can be replaced with corn husk or parchment paper)
2 plantain bananas sliced lengthwise
1/2 cup vegetable oil
1 kilo cooked peeled manioc sticks (can be replaced with Yuca or Potato)
1/2 tablespoon mustard
1/2 tablespoon mayonnaise
1/2 tablespoon honey
1/2 tablespoon scallion stalks, chopped
1/2 tablespoon sweet chili pepper without veins and seeded
2 tablespoons jerky, chopped and roasted
4 cups chonta palm (can be replaced with artichoke or asparagus)
salt & pepper to taste

Patarashca Recipe:

Wrasse patarashca, fried manioc and grilled plantain banana with jerky and chonta vinaigrette. Buen Provecho!
Season fish fillets with salt and pepper, Wrasse if you can find it  (try to use the thickest flavorful white meat fish you can find, the Doncella is unpaired, you'll have to come cruise with us to find out why),  add one minced garlic clove and 1 tablespoon olive oil. Mix and marinate for 10 minutes in the refrigerator.
For the dressing, in a bowl, mix onion, sweet pepper, Amazon tomato, ginger, Sacha Culantro (cilantro will do), soy sauce, 1 tablespoon olive oil, and salt and pepper to taste, mix thoroughly.
Spread out plantain leaf (it is so aromatic that it is worth looking for it in Latin or Asian markets, if not, replace with corn husk or parchment paper), put a fish filet on it and cover with dressing. Wrap, tie and fry each side over low heat for 15 minutes.
In a frying pan, fry the plantain bananas over medium heat with 1/2 tablespoon olive oil, 2 minutes each side, set aside.
Here in the Amazon local villagers base their diet on plantain and mandioca, we like to honor them and fried them as well, to give our fish plate a more filling and textured feel.
Prepare a vinaigrette with the remaining olive oil, mustard, mayonnaise, honey, scallions, sweet chili pepper and salt & pepper to taste. Add the chopped jerky and mix well.  After plating pour vinaigrette over chonta (you may chop heart of palms).
Save This Patarashca Recipe Card: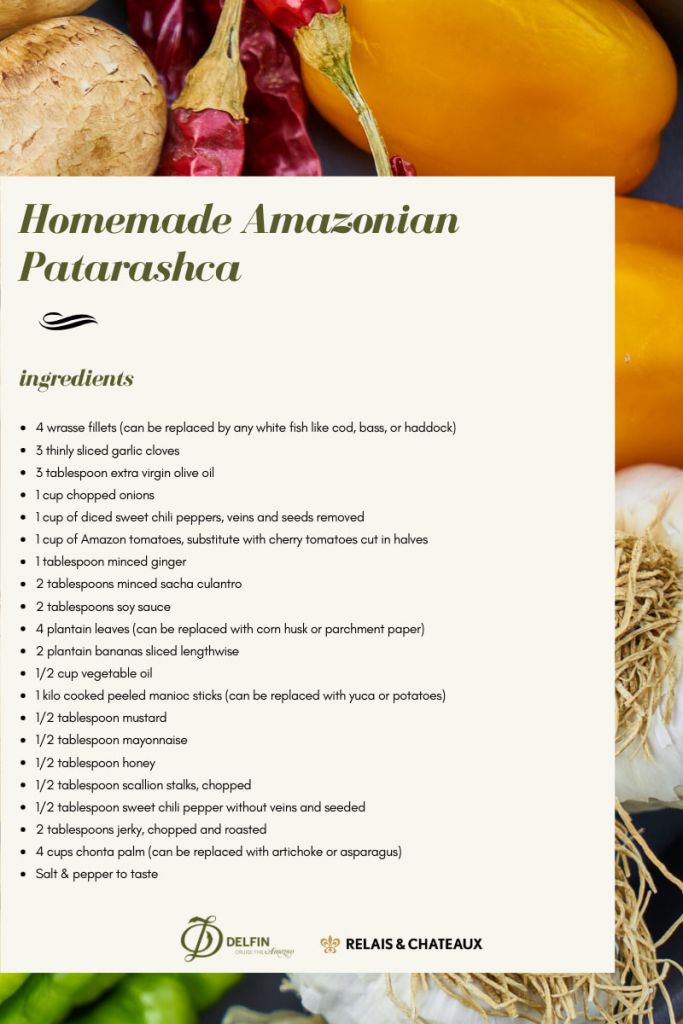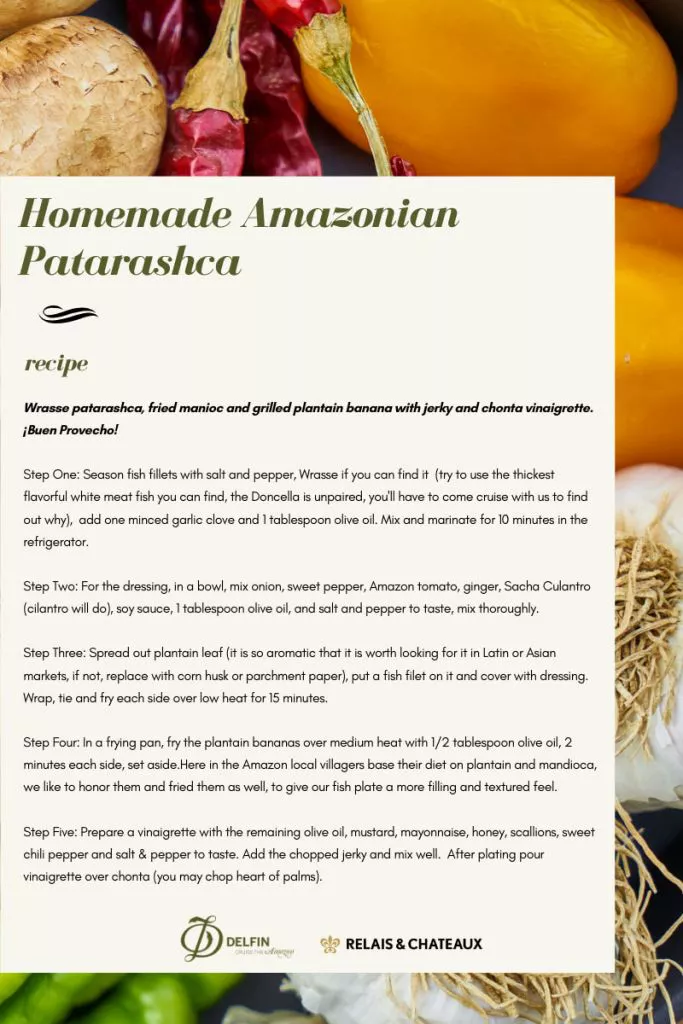 We hope you enjoyed our easy Patarashca Recipe from the Amazon Rainforest. Send us a photo of your cooked meal, we would love to see your take on this classic Peruvian dish. For more information about booking a Delfin Amazon Cruises experience please contact us or call 1-833-201-8684.