Upper Suites Aboard Delfin III Amazon Cruise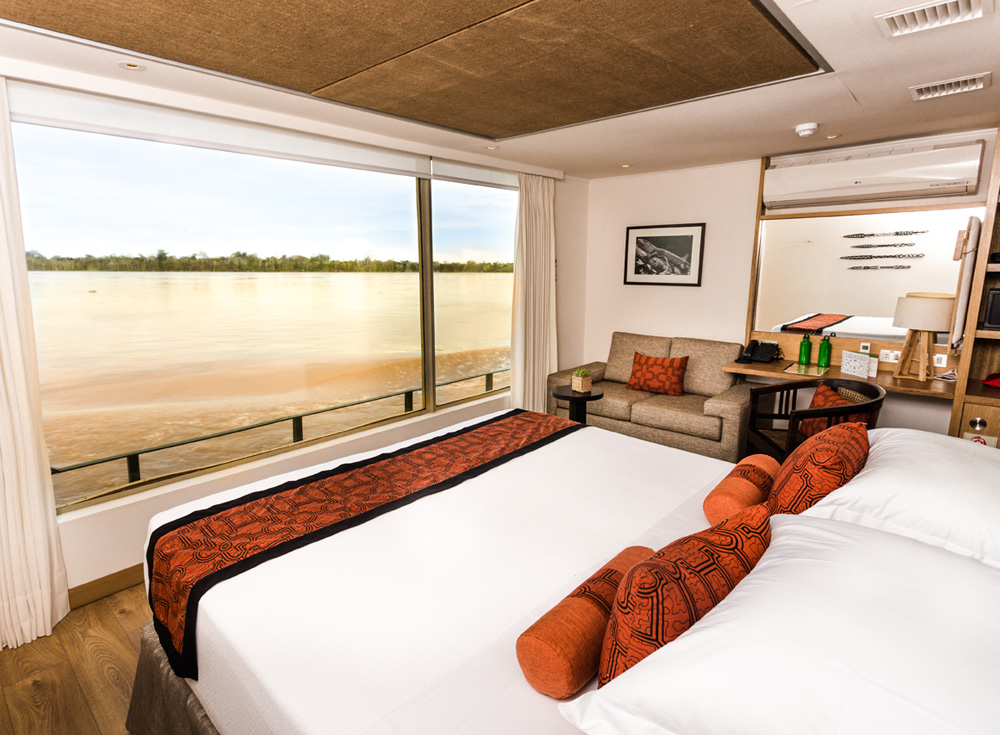 In Delfin Amazon Cruises, we set the highest standards for impeccable service, unique style and superb cuisine. Our vessels take you one step beyond luxury, where comfort and grace combine effortlessly with the wilderness of the Amazon in a setting of understated elegance and world-class hospitality.
This first-class Amazonian cruise company sails out of Iquitos, Peru, and gives you the chance to be one of a select group to visit the remote Pacaya Samiria National Reserve: the largest protected wetland reserve in the world and one of the areas of highest biodiversity.
As of today, the luxurious cruise company in the Amazon has three boutique vessels, 200 collaborators, two own embarkation ports, a restaurant and an operations center in Iquitos. Our guides, skippers, chefs, and crew members —many of them native Amazonians— are experienced and trained professionals as well as charming travel companions. They are sure to provide our clients with personal and undivided attention.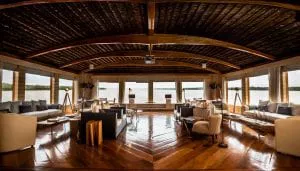 Delfin III is our newest and largest ship, and combines traditional design and craftsmanship, with all modern comforts. There are 21 cabins on board, all carefully designed to be of the utmost pleasure, including 10 Upper Suites with 180° panoramic windows.
The Upper Suites each feature floor to ceiling windows for stunning views of the passing scenery. Located on the second deck of the ship, guests will enjoy king size beds with fine Peruvian cotton, comfortable sitting areas, and attention to every detail.
Additional services include bedside tables with reading lamps, premium bath amenities, internal communication system, individual climate control, daily maid service, nightly turn-down service, hairdryer, easy under-bed luggage storage, in-room safe and a writing desk.
Enjoy the luxurious comfort of the Upper Suite of the Delfin III vessel, with stunning views of the Amazon Rainforest with all its magnificence and wonder. For more information on the departure, check here for availability.