Corner Suites Aboard the Delfin III Amazon Cruise
Delfin Amazon Cruises was launched in early 2006 by its founder and CEO, Aldo Macchiavello, a senior banker with 25 years of experience in the financial sector. Together with his wife, Lissy Urteaga, they both realized their dreams of running a boutique travel business for sophisticated travelers in their amazing country of Perú.
Their three boutique cruise vessels (Delfin I, Delfin II and Delfin III) sail across the Amazon River providing an insight into the ecological wonder of the Pacaya Samiria National Reserve, one of Perú's largest protected areas of flooded rain forest.
Delfin III is one of their most beautiful and splendid vessels, the largest and newest of the fleet. The luxurious river cruise offers 8 suites complete with floor to ceiling panoramic windows as well as 2 spacious Corner Suites facing the front of the ship. Travelers will be spoiled by the floor-to-ceiling windows that allow nature to be part of the natural suite decoration, and the daily cabin service will ensure the most optimal personalized service possible.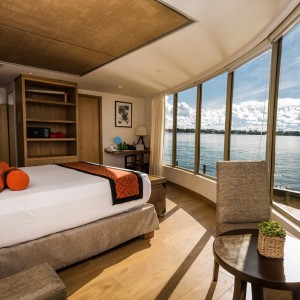 Located on the main deck at the front of the ship, the two Corner Suites indulge guests with breathtaking views of the expansive river through 90 degrees of floor to ceiling windows. They also feature king-size beds with premium mattress, luxury cotton linens and duvets.
Added amenities include one complimentary 30-minute spa treatment per guest, a stocked mini-bar with bottled water replenished daily, a scented bath upon request and complimentary laundry (limited to 10 pieces twice per cruise).
Corner Suites also offer passengers a nightly turndown service, a shoe cleaning service upon request, an electronic safe, make-up mirror, iron & ironing-board, multi-configuration plugs,  generous closet space and under-bed storage, a writing desk and seating area.
Relax on the luxurious and elegant Corner Suite of the Delfin lll, with open views of the magical Amazon River. For more information on the departure, click here.