Delfin I Amazon Cruise Itinerary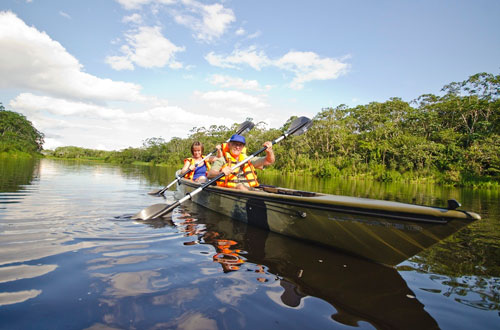 The itinerary that the Delfin Amazon Cruises provides for adventurous tourists and nature lovers will fulfill all your travel dreams in the Amazon Rainforest. Your expedition cruising journey initiates on arrival in Iquitos, where we will personally pick you up and bring you to our vessel. There, you will experience an ideal combination of natural wonders, dramatic scenery, indigenous cultural history, and a relaxed and self-contained way to explore the Amazon, all while sightseeing nature at its best.
Our four and five-day itineraries offer you the chance to be one of a select group to visit the remote Pacaya Samiria National Reserve, the largest protected wetland reserve in the world and one of the areas of highest biodiversity. All of our activities have been carefully selected to showcase the best flora and fauna that the Marañon and Ucayali Rivers have to boast, allowing travelers to further discover the secrets of the Peruvian Amazon.
Itineraries vary based on whether the travel dates fall in the rainy or dry season. The high water or rainy season, from November to May, is ideal for the senior traveler or photographers that prefer to go further into the Pacaya Samiria reserve onboard speed boats to see the landscapes and wildlife. The low water or dry season, from June to October, is most chosen by the active travelers that prefer to walk through the rainforest and discover its flora and fauna.
The Delfin I allows guests to discover the exotic Amazon Rainforest by trying many water activities and wildlife excursions. The 2 or 3 times daily excursions (in the morning and in the afternoon) include kayaking in the calm creeks and lakes, swimming with dolphins, fishing for piranhas at sunset, skirting the riverbanks in search of playful creatures, birdwatching, canopy walking, and visiting the local communities in order to interact with the native people. Optional early birdwatching excursions before breakfast are also available for those who are up for the challenge!
Indulge in the wonders of the Amazon River aboard the majestic Delfin I and submerge in the mysteries of the rainforest. For more information on the itinerary, water activities and excursions, click here.