Delfin III
Our newest vessel, the Delfin III, offers guests an immersive rainforest experience while simultaneously treating them to the highest levels of luxury. This brand new vessel is also the largest in our fleet, with capacity for up to 43 passengers. The ship has been beautifully finished with the finest details, hardwood floors, designer furniture, and handmade Peruvian artifacts.
The Delfin II
Delfin II has 14 large guest suites include 4 Master Suites with 180° panoramic windows, and 10 Suites, 4 of which can be interconnected to accommodate families. Each with movie screen sized windows and natural elements, they offer all the comforts provided by world class lodging yet with the spirit of casual and refined elegance while you sail in the Peruvian Pacaya Samiria National Reserve with us.
The Delfin I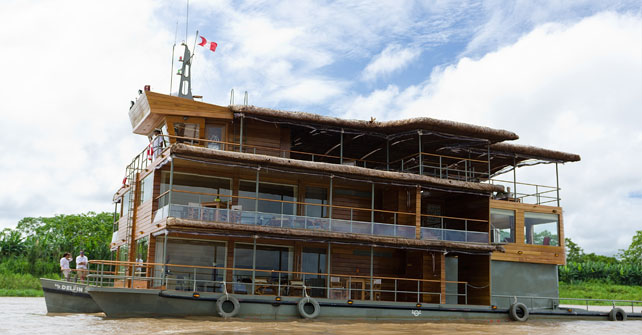 Our new and refurbished Delfin I takes you one step beyond luxury, where comfort and grace combine effortlessly with the wilderness of the Amazon to create the most unique and personalized vessel to ever sail in the Peruvian Amazon region. In a setting of understated elegance and world-class hospitality, this classic river vessel features 4 oversized suites, all with private panoramic terraces; 2 offer a private whirlpool for the ultimate treat.