OUR VEHICLES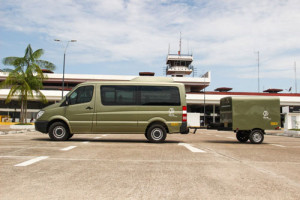 At Delfin Amazon Cruises, we have a long term commitment with the Amazon and with all our world-traveling guests. We consider that from the minute you set foot in Iquitos until you depart back home, you deserve top quality services. To fulfill this purpose, not only do we invest in our fleet and cruises, but also in a wide range of additional infrastructure elements we consider necessary to achieving the high standards we live by. For example in late 2013, we added two 2013 Mercedes Benz Sprinters to our fleet of vehicles. Each Sprinter comfortably sits up to 15 guests and has a towing luggage car. The panoramic windows allow our guides to tell travelers about the city of Iquitos and the route towards our private embarkation port in Nauta. Cold complimentary beverages are offered during this smooth 1.5 hour journey.
PORTS OF EMBARKATION

We have 2 exclusive Ports of Embarkation. Our main port is in the city of Nauta, a 1.5 hour drive from Iquitos Airport, where we serve only our river cruise operations. Additionally, we have a port located in Iquitos city itself, from which we serve both our river cruises and where we operate our VIP Lounge: floating restaurant Al Frio y Al Fuego.
FLOATING RESTAURANT AL FRÍO Y AL FUEGO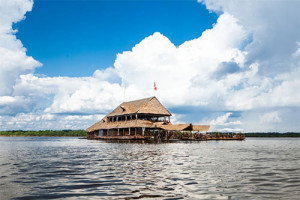 This is the most unique restaurant in Peru, floating in the middle of the Itaya River just 5 minutes from the main city of Iquitos. Built in an authentic yet exquisite style using ancient Amazonian techniques and exotic woods, you will find that Al Frío y al Fuego is as a destination in and of itself. Behind the scenes, our creative and innovative chefs at Al Frío y al Fuego work with a wild range of fresh ingredients sourced from the jungle you see around you, and the gentle blend of immigrant traditions over time has yielded delicious Amazon creole cuisine that we proudly serve to our distinguished guests. www.alfrioyalfuego.com
HALF DAY TOUR OF IQUITOS
Iquitos is a city born due to its perfect location along a bend of the great Amazon River just around the corner from Colombia and Brazil. The natural highways that lead up to this city of about 500,000 residents make it an ideal port and was one of the reasons Iquitos was the headquarters of Peru's rubber boom at the turn of the 19th century.
We offer a half day tour which will begin at the city´s main Plaza de Armas. Your guide will then take you to Nanay Market & Port where it is said many years ago, the natives came together to found the city of Iquitos. After a short air-conditioned ride, you will find yourself in Belen floating market (high water season November to May). In this distinctive neighborhood, the people live in stilted homes which anticipate the rising and falling of the river throughout the seasons. Your day will end with a stroll along the Iquitos promenade (Malecon Tarapaca) which weaves along the Tarapaca River.