VALUE AND COMFORT
DOES SAILING ON BOARD THE DELFIN GIVE GOOD VACATION VALUE?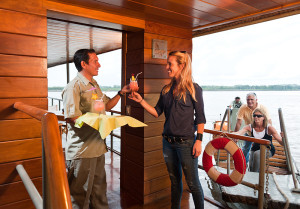 Yes. Our travel experience offers excellent vacation value. Our rates include all meals, very comfortable double bedded cabins on Delfin I, and Suite or Master Suite accommodation on Delfin II, excursions with knowledgeable naturalist guides, all Pacaya Samiria Reserve and Yanallpa Private Reserve entrance fees, onboard lectures, and evening entertainment. Transportation from/to the airport if you arrive and depart on our recommended flights is also included. Your only extra expenses will be airfare, select alcoholic drinks, boutique purchases, and gratuities.
WILL I BE COMFORTABLE ABOARD THE DELFIN VESSELS?
Yes. Delfin I & II are 2 true luxury river vessels that cruises the northern Amazon, and offer extraordinary levels of comfort. Delfin I, made for just 12 passengers, and Delfin II, twice the size for 30 passengers, will give you the feeling that you are on board a true river vessel. Our boats are completely environmentally friendly so that the jungle doesn't even know we are there. The sizes and capacities have also been carefully designed so that they are the perfect size for sailing into the nooks and crannies of the Pacaya Samiria National Reserve in small groups while offering maximum safety on the water.
WHO SHOULD I CONTACT IF I HAVE A SPECIAL REQUEST WHILE ON BOARD?
Please contact the Cruise Director or your guides.