The Better Seasons to Travel
WHEN IS THE BEST TIME OF YEAR TO TRAVEL TO THE AMAZON?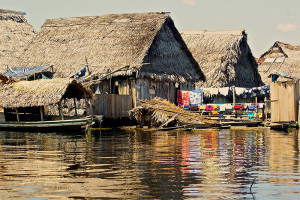 The Amazon basically has 2 seasons: the flooded and the dry season. Both offer rich rewards, fabulous sites, and amazing opportunities to view plant and animal life. The Amazon Basin is as rich, lush, and green as it is because it gets an abundance of rain (12 feet a year on average). In a typical year, that totals 200 rainy days, which means that there will be days of heavy rain even in the dry season. Also it is hot in the Amazon any time of year. Two key points to remember, as you choose between the Amazon in flooded season or in dry season: there will be some rain whichever season you choose, and yet you will see spectacular wildlife and plant life whether you go in wet or dry season. All the rest is details.
ABOUT THE FLOODED SEASON:
The flooded season runs from November through May – summer and autumn in the Southern Hemisphere. It is the cooler and wet season, but keep in mind that the jungle gets only a little more than half (60%) of its total rainfall during the flooded season. At this time the average temperature is 86 degrees Fahrenheit, 12 degrees cooler than in the dry season. There are great benefits to traveling at this time of year. Perhaps most important, the rivers and streams are about 23 feet higher, meaning that every river, creek and lake is navigable. You will get to explore more of the waterways of Amazonia, and will have access to plant life and wildlife areas that you might miss during the dry season. Also, that extra 23 feet puts travelers much closer to the jungle canopy, where monkeys play and our beautiful Amazon birds like to roost. In fact, you are very likely to see many more mammals, both monkeys and others, during the flooded season. Increased navigability by water has the flip side that areas to walk and hike are limited at this time, and if we do find usable hiking trails there will be more mosquitoes than in the dry season. Fishing is more limited during these months too, but you still have close to a 50% chance to get out your rod and reel and make a catch.
ABOUT THE DRY SEASON:
The dry season in Amazonia coincides with winter in the Southern Hemisphere (from June to October). This is the warmer season, with temperature averaging about 98 degrees Fahrenheit, and, despite its name, the dry season still gets some heavy rains. A key difference is that trails and jungle paths that are flooded from November to May are now easily accessible, allowing groups to explore deep in the jungle (accompanied by fewer mosquitoes than during the flooded season). The flip side of that, however, is that water levels are about 23 feet lower from June to October, which means that many of the creeks and lakes that we visit during the flooded season are inaccessible. Lower water levels, however, can be a bonus in another way: During these months fishing is 100 percent guaranteed to catch a piranha. And while the lower river levels mean that you are farther from the birds that enjoy the jungle canopy, you will have the chance to see dozens of species of migratory birds in flight, something you would completely miss during the flooded season.
THE BOTTOM LINE:
If seeing the glorious flooded forest and getting close-up looks at lots of birds and mammals (and enjoying a slightly cooler temperature) sounds attractive, then the flooded season might be the best choice. (Remember: Despite its name it only gets about 10% more rain than falls in the dry season). If jungle hikes, seeing exotic migratory birds perch on trees as they pass through Amazonia, still having the chance to see monkeys and other mammals, and going on great fishing expeditions top your list, you might be happier choosing the hotter, less rainy dry season. Perhaps the best solution of all: choose one, and we hope that you will like it so much that you may want to return to experience the other season in the Amazon as well.