WHICH MEALS ARE INCLUDED?
Arrival day: dinner
Cruise days: all meals & snacks
Departure day: breakfast, lunch
IS THE CUISINE AS GOOD AS I'VE BEEN TOLD? CAN I GET A SPECIAL DIET?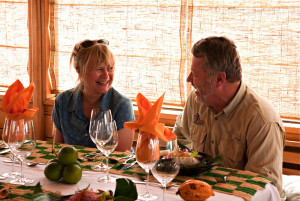 Yes. The food is simply world class. Our guests enjoy a menu of fresh, delicious Peruvian fare (with a bit of continental influence), whether served on board or out on an adventure. Dinner each evening promises to be a culinary feast for the senses, paired with select South American wines or perhaps a freshly pressed juice. If you have special dietary requests, please inform Delfin Amazon Cruises at the time of booking, or at least by 30 days prior to embarkation because some items may have to be shipped and imported (no roads lead to Iquitos!). Every effort will be made to cater to special dietary needs and to accommodate special requests, subject to a given products' availability in Peru.
WHAT IF I DON'T LIKE MY TABLEMATES? IS ROOM SERVICE AVAILABLE?
This is rarely a problem. However, we do have different solutions depending on which vessel you are sailing on. Aboard Delfin I, please speak with the Maître d' to arrange a private in-suite meal on your terrace. Throughout dinner service, you will have your own waiter to serve you. This is a very enjoyable experience for special occasions such as birthdays or milestones as well. Aboard Delfin II, please speak with the Maître d' or the Cruise Director to find a table location that works for you. Room service is not available on Delfin II, but will be provided in the event of passenger illness. No matter which vessel, our staff will make every effort to seat you with more comfortably and with compatible dining companions, of course with full discretion and courtesy.