WHAT IS PERU'S TIME ZONE?
(UTC-05:00) The time in Peru is the same as Eastern Standard Time in the United States. Daylight Savings Time is not practiced.
WHAT IS THERE TO DO IN IQUITOS?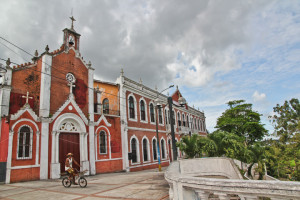 You will spend very little time in Iquitos since your entire journey will be on board the Delfin and on shore along the Amazon River and its tributaries. However, the remote city of Iquitos, accessible only by river or air, will not disappoint. This bustling town, complete with a beautiful building designed by Gustave Eiffel, was once a rich center of the rubber industry at the turn of the 19th century.
Our Iquitos city tours during which our expert local guide (English and Spanish speaking, with other languages upon request) will take you to the top highlights in the area that showcase Iquitos' dynamic historical and cultural sides, then perhaps enjoy a nice meal at our floating restaurant in the middle of the Nanay River! Only a short distance from the city is also the fine Quistococha Animal Reserve where you may see rare creatures of the Amazon Rainforest, and the Pilpintuwasi Butterfly Farm & Amazon Animal Orphanage to learn about the life cycle of the jungle's lovely butterflies and visit rescued and rehabilitated Amazon animals. Depending on your specific schedule and interests, we are happy to create a customized itinerary for you if you have an early or late departure.
IF WE GO ON AN IQUITOS-BASED TOUR WITH YOU, HOW WILL WE GET AROUND?
We have a set of vehicles that make your transfer easy and comfortable. They vary by size (sedan, van, bus, etc) depending on the number of travelers in your group. All of them come with air conditioning, are clean and modern, and come equipped with drinks (water, sodas) and snacks so you can replenish yourself throughout the day. Your private chauffeur will be at your disposal for the time of your tour, as well as your local guide.