WHAT IS A SHORE EXCURSION? HOW PHYSICALLY CHALLENGING ARE THEY?
A shore excursion can be anything from exploring remote tributaries to spotting monkeys and birds along a jungle trail, or from visiting a local village to fishing on one of Amazonia's beautiful lakes. They vary in level of difficulty, but most travelers who are reasonably fit will have no trouble participating in every excursion. Passengers are divided in groups of 8 people for shore excursions, with each group led by a trained naturalist guide. Guides rotate among the groups so that each passenger can benefit from their specialized knowledge. Our guides speak fluent English (and Spanish of course!). We recommend that groups requiring any other language bring a translator, if necessary.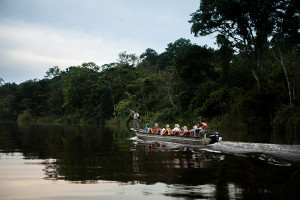 Each evening, your guides will brief you on what to expect during the next day's excursions. Typically, you will navigate the Amazon River or one of its tributaries at night, arriving in a new location for a new adventure in the early morning. Passengers opting to go on the early morning excursions will get a wake-up call at approximately 6 am. Excursions last 3 to 4 hours, allowing plenty of time to explore, listen to your guide's explanation, and photograph the abundant wildlife. While most excursions involve "dry" landings, some require "wet" landings, where you will have to step into shallow water and then wade to shore. Your guide and skiff driver will assist you, and rubber boot rentals are provided. We also provide waterproof ponchos with hoods to protect against rain.
When the excursions are in the Pacaya Samiria National Reserve, we follow marked trails, walking at a leisurely pace for up to 1 hour. Guests should be in good physical health in order to be able to make the most of their Amazon cruise. The daily nature excursions may include walking on irregular terrain and getting in and out of the skiffs, occasionally requiring some physical effort. We recommend taking comfortable walking shoes for walking on the dry paths.
WHAT KIND OF WATER ACTIVITIES WILL WE DO?
The water is an integral part to an Amazon experience so of course you'll get many chances to explore it! Aside from skiff boat rides, you will also get to go swimming, kayaking, and paddleboarding (Delfin I only) in order to get intimate with the water environment.
Our swimming locations are generally in calm and safe lagoons and small creeks, and our skiffs and guides will always be at just arm's distance. Plastic floating noodles will be provided so you can enjoy your dip in peace and comfort. A small ladder will be propped up against the skiff to help you get in and out of the water. When you are done with your swim, your guide will give you a soft towel to dry off with, and any drinks you wish.
Kayaks are available on both Delfin vessels. There are 4 kayaks on Delfin I, and 5 kayaks on Delfin II; each kayak is fit for 2 persons. Our kayaks and paddles are top-of-the-line and make it easy and effortless for you to navigate the tranquil waters without a worry. We recommend you bring a plastic bag for any electronics in case they get wet.
Finally on Delfin I, we are proud to offer paddle boards starting in late 2014! No other vessels sailing in the Peruvian Amazon offers this exciting excursion. The 2 paddleboards offer a unique chance to row while standing, and you can feel the Amazon waters brushing by your feet as you move, making you feel one with nature.
WHAT ARE THE FISHING ACTIVITIES LIKE? DO YOU OFFER FLY FISHING?
Our fishing excursions let you see a bit of what is found underneath the water surfaces. One afternoon, your guide will choose a spot well known for piranhas and other aquatic creatures. From the safe spot of our skiffs, cast your rod and see how many you can catch in one sitting! Our fishing policies are catch-and-release.
As for fly fishing, we currently do not offer this as part of our general excursion schedules. However, we can arrange private excursions during fishing season (about June to September). We also have a variety of equipment for these activities; please speak with your trip representative for more details.
WILL I GET BORED? FEEL CONFINED? WHAT IF I DON'T WANT TO GO ON AN EXCURSION?
No. Being in the Amazon gives you a feeling of being completely transported to a new world. Every day will be packed with discoveries as you explore remote places, spot unusual wildlife, and meet with local native people. The Delfin I and II are like luxurious floating boutique hotels where you will never feel confined. If there are days when you choose not to go onshore for an exciting jungle expedition, you can stay onboard the vessel and all our crew will be ready to pamper you. On board the Delfin II, there is also a new Exercise Room and Spa for massages and treatments which you can enjoy during your time on board. Otherwise, lie back in a lounge chair, breathe in the Amazon air, soak up the sun, read a good book, watch the ever-changing view, and simply experience total relaxation in the heart of the Amazon jungle.
INSTEAD OF GOING ON AN ORGANIZED SHORE EXCURSION, CAN WE GO OFF ON OUR OWN?
No. For safety reasons, passengers are required to be with one of our naturalist guides whenever they are on land.