IS IT BETTER TO BOOK EARLY OR CAN I BOOK ON SHORT NOTICE?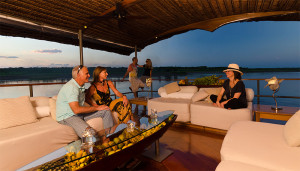 Yes. It is better to book early especially if your travel dates are not flexible. Most of our travelers book 8 months to as much as 18 months in advance. This is because our vessels are absolutely unique and have less capacity than more conventional cruise ships or lodges. The holidays are especially busy times and during these periods, it is highly recommended to book as early as possible.
DO YOU ACCEPT GROUP BOOKINGS? ARE CHARTERS AVAILABLE? WHAT ABOUT SPECIAL RATES AND DISCOUNTS?
Yes. We accept both group bookings and charters. We have also a special Tailor Made Charters; please request and fill out our special form so we may understand your interests and preferences and thus design the perfect program just for you and your group. Please also request our charter terms and conditions and rates for further information. There are no other special rates, for example for senior citizens, families, or late minute discounts.
DO YOU WELCOME FAMILIES WITH CHILDREN?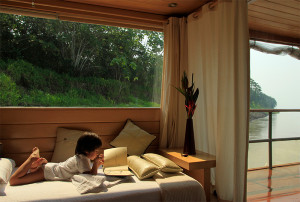 Yes. We warmly welcome families with children, as long as they are age 7 or older. 4 of our Suites on Delfin II are interconnected to cater families. Additional accommodation for 1 child is available in some cabins. Our naturalist guides are very friendly with kids and all of our staff will provide the necessary care for your family. We also have survivor jungle trails, piranha fishing experiences, a wide range of DVDs, and meal menus for kids.
HOW OLD DO YOU HAVE TO BE TO CRUISE ON EITHER VESSEL?
Who is considered a child? We consider children to be 11 or under.
How old do you have to be to travel without a guardian? Passengers must be at least 18 years old to travel without their parents or guardians. The only exception is that children under age 18 may be allowed to have their own cabin if they are traveling with their parents or guardians.
What's the minimum age to travel any of our vessels? We recommend travelers are at least 7 years old at the time of travel.
But if we want to go with children less than 7 years? Children less than that age can board the vessel only with their parents in a private charter basis and with a disclaimer form signed ahead of time.
HOW MANY PEOPLE CAN I HAVE IN MY SUITE?
In order to ensure the optimum safety and comfort of all our passengers, we allow up to 3 people in each Suite aboard Delfin I, and 2 adults and 1 child on Delfin II. Aboard Delfin II there are 4 suites interconnected to cater to families' needs.
DO YOU OFFER HONEYMOON PACKAGES?
No. We do not have a set and specific honeymoon package, but we believe that sailing the Amazon offers an atmosphere that's just right for romance. Imagine enjoying a gourmet dinner for two after a day in the jungle, or sharing a bottle of champagne while watching the sun set over one of the world's mightiest rivers, or waking up in your king-sized bed to see the colors of the jungle through your panoramic window, or snapping photos of each other in the midst of the rainforest. What's more, the 2 Deluxe Master Suites aboard the Delfin I offer an intimate cool water whirlpool on the private terrace, making it the perfect place to enjoy each other's company in the fresh Amazon outdoors while gazing at the unbelievable passing landscape. This is a place for honeymooners and you´ll discover it by being part of it.
WHICH ITINERARY DO YOU THINK IS THE BEST AND WHY?
We offer 3 and 4 night programs. Which you choose will really depend on how much time you have, and how long you want to spend exploring the Amazon region. We have developed these 2 programs to depart from the city of Nauta, a 1.5 hour drive from Iquitos airport, and give you the opportunity to get to the heart of the Pacaya Samiria National Reserve. The only difference between the programs is that you will stay 1 day more experiencing the Amazon with us, making your experience perhaps a bit more relaxed. We also offer a special 7 night personalized program, but that is based only on custom-made charters or private itineraries. Each vessel has its own unique itineraries; contact your trip representative for more details.
WHEN WILL I RECEIVE MY CRUISE DOCUMENTS?
Periodically, you will receive recommended tips, facts, and other information from us leading up to your sail date. 90 days before your departure, we will reconfirm your booking by email. Upon request, we can also send you your confirmation booking number.