ARE ALCOHOLIC BEVERAGES INCLUDED?
The below indicates what is included on each of our vessels.
Delfin I & Delfin II: Natural juices, soda, coffee, tea, water
Delfin I: Beer, House cocktails, Pisco cocktails & sours, House wines with lunch and dinner
Delfin II: Beer
Note that on Delfin I, cocktails made with Premium Brand liquors are the only beverages not included.
WHAT IS THE DRINKING AGE ON THE VESSELS?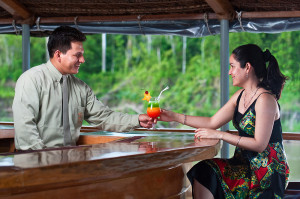 You must be at least 18 years old to legally consume beer, wine, and other alcoholic beverages in Peru and on board both our vessels.